'V' for Very Disappointed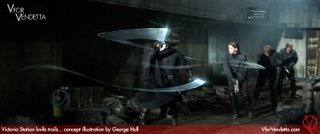 Not to bite the hand that feeds us, but...
While I put off the Wachowski's 'V' because I heard the church was put in the worst possible light (it was and the FF button was pressed a few times), I finally saw it last weekend. Think Michael Moore meets the Matrix. Not that we don't have lots of liberal minded folks in our community, but, Wachowskis, chill out. Hugo was amazing but the political junk food was terrible.